The 2020 Subaru Love Promise Customer and Community Commitment Award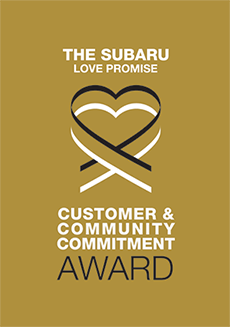 We've been nationally recognized for our dedication to our customers, our community, and the Subaru Love Promise.
We're honored to receive the 2020 Subaru Love Promise Customer and Community Commitment Award. This award nationally recognizes elite Subaru retailers who provide an exceptional customer experience at every interaction with Subaru. These retailers have also demonstrated an outstanding commitment to supporting passions and causes in their local communities in important areas such as the environment, community, health, education, and pets.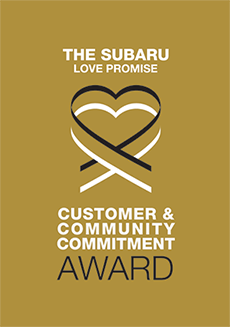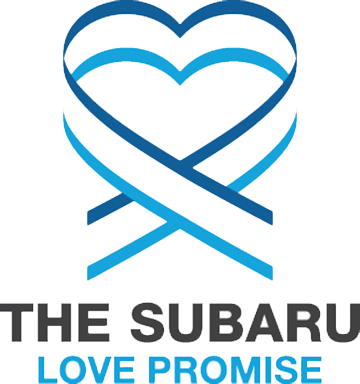 What is the Subaru Love Promise?
Subaru and our retailers believe in making the world a better place and the Subaru Love Promise is our vision of respecting all people. This is our commitment to show love and respect to our customers and to work to make a positive impact in the world.
How is John Hine Temecula Subaru dedicated locally to the Love Promise?
Our Love Promise can be seen in various partnerships with local charities and non-profits. We're grateful for the opportunity, not only to be a part of our community, but to serve it as well.
Animal Friends of the Valleys/ASPCA
Assistance League of Temecula
Love Promise Stories from John Hine Temecula Subaru
Subaru and John Hine Temecula Subaru believe in making a positive impact on the communities in which we live and work. We uphold that belief through our Love Promise Community Commitment. Every month, we select inspiring stories from customers and partners from around our area who strive to support our collective commitment and feature them here
Otis - Subaru Loves Pets - Carline C
This past August our Subaru Loves Pets adoption partner, Animal Friends of the Valleys took in a wonderful dog that had special needs. His name is ODIN. He was born with deformed front paws that made it difficult for him to walk. Unfortunately, he wasn't able to do many of the things that other dogs were able to do... but that never stopped him from trying. Using a portion of the donations that John Hine Temecula Subaru provided, Animal Friends of the Valleys was able to purchase a wheelchair and the special training needed to assist him in walking and coping with the struggles of everyday life. As a result, Odin now loves the long walks he is now able to go on with the walkers and trainers at the shelter. Odin is an absolute sweetheart and survivor that is now thriving. The best part is… two months later he found his "forever home"! The new owner of Otis drove several hundred miles from out of state to specifically adopt a dog with special needs. They were a perfect match and now he is at his forever home with love and care. To date, John Hine Temecula Subaru and the ASPCA have donated over $30,000 to "Animal Friends of the Valleys". These funds directly provide the care, special training, assistance needed for animals of all shapes and sizes, as they await a new family to love.
---
Community Mission of Hope Blanket Donation - Alison N
"In conjunction with the 2020 Subaru Loves to Care campaign John Hine Temecula Subaru had the wonderful opportunity to donate a large number of blankets to the homeless and those in need in the Temecula Valley region via the Community Mission of HOPE (CMOH) The CMOH seeks to provide responsible compassion to those in need by providing food & walking with individuals to get them on a path to self sufficiency. It has been great to partner with them especially during these trying and stressful times during the COVID Pandemic. Alison, the director of CMOH. gave John Hine Temecula Subaru a great shout out on their facebook page: "We got some wonderfully 💙 WARM WISHES 💙 from John Hine Temecula Subaru today! 🚙 They provided us with 40! gorgeous blankets for our clients who are experiencing homelessness. We Feel Good this Friday Hine Subaru because of you!
---
Subaru Loves Pets - Beth S
John Hine Subaru, Temecula has been an unwavering partner to Animal Friends of the Valleys for many years. Bill Brumbaugh, GM at John Hine Temecula and staff continually help support the animals at the annual Spooktacular pet costume contest and adoption event. This year, the event was on a much smaller scale due to the Pandemic but the outcome of adoptions was just as incredible. We would not be able to have this event if not for the partnership with John Hine Subaru and the ASPCA. This year with their support we were able to waive the adoption fees for over 50 animals during the Halloween weekend. Odin, a special needs dog with two disfigured front paws came into the shelter sad and withdrawn. He had difficulty walking. The volunteer dog walkers and staff at AFV tried working with him but he continued to be shy. Because of the support from local businesses like John Hine Subaru AFV was able to fit Odin with a front wheel walker. After a few days of getting adapted to his new wheels his whole personality changed and he was able to go on walks and was much happier. Weeks went by and a wonderful family from Arizona read about his story on the AFV website and new he would be a perfect fit with their family. They drove hundreds of miles to adopt this special dog. This is just one story out of hundreds. Our mission is to find a loving and forever home for all adoptable pets that come through our doors. We want to Thank Bill Brumbaugh GM at John Hine Subaru and staff for their unwavering support throughout the years. Animal Friends of the Valleys is a non-profit animal shelter that serves the cities of Temecula, Murrieta, Wildomar, Lake Elsinore, Canyon Lake, Menifee and surrounding rural county areas. AFV opened its doors to over 8000 animals dogs, cats, rabbits, guinea pigs, reptiles, small farm animals and various wildlife just this year. AFV is pleased to report we are at the highest adoption rate in our 30 year history. AFV relies on the help from large corporations, small businesses and generous donors to help care and find loving homes for all adoptable pets. AFV appreciates everyone at John Hine Subaru for loving pets and always willing to help.
---
Sharing the Love - Dorcas S
Beginning in 2013 Subaru retailers had the opportunity to add a local hometown charity for their customers to support. "When Subaru announced that we could choose a local charity to be added to the Share the Love event, we did not have to even think hard about it. Assistance League of Temecula Valley was our first and only choice," said Bill Brumbaugh, Vice President/GM of John Hine Temecula Subaru. "They have spent the last 30 years helping those less fortunate achieve a better, more meaningful life. We are proud to have such a wonderful, caring and hard-working organization right here in Temecula." The relationship between Assistance League and John Hine Temecula Mazda/Subaru began in 2012. The "Share the Love" contribution has continued to increase with each year's campaign and the total contributed has provided new school clothing and shoes to 1,310 students from low-income families "We never imagined the extent of the support that we have received from Subaru and their team. Their presence at our dedicated Operation School Bell Shopping events provides an additional level of support to our volunteer efforts," said Denise Lanier, President, "We are so appreciative of this relationship. This is a perfect example of how businesses and volunteers can work together to provide for those in need."
---
SUBARU FIRST TIME BUYER - MARLENE N
I am now a believer that Subaru is the best SUV on the road. I am 71 years old. I have had Mercedes Benz, Lexus, BMW, Toyota, Chevrolet, Ford and Datsun. My son kept recommending the Subaru because of all the safety features and because of my age he thought that the extra help would be useful. So we called the John Hine Dealership during Covid-19 and because we are seniors the salesperson (Hayden) brought an Outback over for us to drive and I thought it was to big. Hayden then brought over a Forester, I drove it and fell in love. It had the beautiful Saddle and Black interior and a Pearl White exterior. Hayden went back to the dealership to do the paperwork after we agreed on a price and we bought the car. Every time we get into the SUV we smile because it is so beautiful and drives so nice and we feel so safe. My sister who just bought a Mercedes, saw our car yesterday and said her next car will be a Subaru because it has so many more features. She didn't even want us to see her interior. LOL The SUV get a 10+ and Hayden gets a 10+ *************THANK YOU JOHN HINE TEMECULA SUBARU*****************
---
Blankets for Cancer Patients! - Samantha V
On Tuesday August 13th The Leukemia & Lymphoma Society Orange County Inland Empire Chapter and John Hine Temecula Subaru had the pleasure of delivering 80 blankets to the Loma Linda Cancer Program in Murrieta as part of the Subaru Loves To Care program. This incredible act of generosity was warmly received by the local hospital staff who were excited to receive these blankets to distribute these comforting gifts to patients. They expressed how blankets are the best gift to give to the patients to keep warm during treatment visits. Many thanks to everyone at John Hine Temecula Subaru and the local hospital for supporting LLS's mission to cure blood cancers and improve the quality of life of patients and their families.
---
Subaru Loves Pets - Bark in the Park - Anne R
From the smallest, biggest, prettiest, most handsome, to the wackiest, best tail wag, cutest and owner look-alike contest... a fun time was had by all at the 2018 Live Oak "Bark in the Park". John Hine Temecula Subaru was once again the title sponsor and so appreciate their partnership and tie-in with "Subaru LOVES Pets". The 2019 edition of the annual event is Saturday, March 23rd which raises money to pay for the annual costs of running and keeping this wonderful dog park up to shape. A giant thank-you to John Hine Temecula Subaru From all of us at The Live Oak Dog Park
---
2018 Subaru Loves Learning - Kevin O
John Hine Temecula Subaru Is proud to once again team up with the American Association for the Advancement of Science to bring the world of science, engineering, and innovation to students through the "Subaru Loves Learning" event. This program is designed to help engage young minds by providing greater access to award-winning science books and much-needed school supplies. Subaru Loves Learning logo.jpg To date, more than 187,000 books have been donated to schools nationwide through this partnership. All of us at John Hine Temecula Subaru are honored to have presented these books to Murrieta Elementary to help students learn, grow and enjoy the incredible area of Science and Technology. As a company, we believe it's important to do our part in making a positive impact in the world...That starts right here in our community and local schools. We are so thankful to be able to support Murrieta Elementary School and the 2018 Subaru Loves Learning Event
---
Paws on the Promenade- Subaru Loves Pets - Animal Friends o
John Hine Temecula Subaru recently teamed up with Animal Friends of the Valleys "Paws on the Promenade" Spooktacular Dog Walk and Dog Costume Contest in conjunction with the Subaru Loves Pets campaign. We were proud to be the "Presenting Sponsor" at this year's event. Along with treat bags, vendor booths and an over-all fun time, the American Society for the Prevention of Cruelty to Animals (ASPCA) waived the fees for animals adopted at the event. According to Beth Soltysiak, Director of Donor Development, Animal Friends Of The Valleys over 25 dogs and cats were adopted as a result of this generous partnership. About Animal Friends of the Valleys:Animal Friends of the Valleys is dedicated to promoting humane care of animals through education and a humane, proactive animal services program. We are committed to preventing the suffering of animals and to ending pet overpopulation in the cities we serve.Animals Friends of the Valleys offers animals for adoptions and provides animal services to the cities of Lake Elsinore, Canyon Lake, Wildomar, Menifee, Murrieta, and Temecula. We are a non-profit 501(c)(3) organization. About ASPCA:ASPCA is a national leader in the areas of rescue, adoption and welfare and has worked tirelessly for over 150 years to put an end to animal abuse and neglect. Our nationwide work includes:Saving animals from dog-fighting, puppy mills, hoarding and other cruelty-related situations.Providing animal victims of cruelty with life-saving medical care and behavioral rehabilitation.Helping thousands of animals find loving homes every single year.Responding to emergency situations when disaster strikes.Working with all levels of government to fight for stronger laws to protect animals.ASPCA provided grant funding to 110 animal welfare organizations across 35 states and Washington, D.C. to host fee-waived adoption events in partnership with their local Subaru retailers, resulting in more than 2,900 adoptions.
---
Subaru Loves Learning - E. Hale Curran - E Hale C
Bill Brumbaugh, General Manager, and Kevin Ohler, Director of Marketing, both from John Hine Temecula Subaru were on hand at Friday's assembly at E. Hale Curran Elementary School in Murrieta to make a special "Subaru Loves Learning" presentation to Principal Pamela Roden. John HineTemecula Subaru donated over 150 award-winning science books to Diane Butterworth's fifth grade class."I am excited about the donation of science books since we are a STEM school," Butterworth said. "And I am grateful to John Hine (Temecula) Subaru for their very generous donation. I will make sure these books get put to great use." As part of the nationwide "Subaru Loves Learning" initiative, John Hine Temecula Subaru supports the American Association for the Advancement of Science (AAAS). The organization has more than 100,000 members and serves as an authoritative source for information on the latest developments in science. AAAS seeks to "advance science, engineering and innovation throughout the world for the benefit of all people. "One of the goals of Subaru America is to make the pursuit of knowledge available to as many minds as possible. According to a recent release, "We know the deepest learning happens when students have the tools they need to inspire new ways of thinking and seeing the world." On a local level, John Hine Temecula Subaru selected E. Hale Curran Elementary as the recipient for the donation. Curran Elementary is a public school with a focus on science, technology, engineering and math and serves almost 550 students. "It's our privilege and our pleasure to make this donation to such a worthy school," Brumbaugh said. "And we hope these books will inspire kids to science-based careers." Via Valley News October 20, 2017 - Paul Bandong
---
The Subaru Share the Love Event 2017 - Kevin O
Using the $25,000 donated during the 2016 Share the Love Event, John Hine Temecula Subaru was able to directly assist over 160 students at this incredible event. Overall, more than 2,200 students benefited from the program which raised over $240,000 throughout the year. As a kick off to the 2017 Subaru Share the Love Event John Hine Temecula Subaru participated first handwith Assistance League of Temecula Valley and Operation School Bell to help under privileged students in our local area. In cooperation with the school districts of: Temecula Valley, Menifee, Romoland, Lake Elsinore and Murrieta, Operation School Bell identified low-income school age children (K-12) in need of assistance for their basic needs. At the events the children were able to shop for brand new school clothing and shoes of their choosing free of charge (up to $150) at area department stores. Kevin Ohler Director of Marketing John Hine Temecula Subaru
---
Share the Love Check Presentation - - Kevin O
General Manager of John Hine Temecula Subaru, Bill Brumbaugh and owner John Hine presented a $25,000 check to the Assistance League of Temecula Valley on Tuesday, April 11, 2017 as a result of the Subaru "Share the Love" campaign. "This is a great way for us to give back to the community," Brumbaugh said. "We are happy to support such a great organization for all the great things Assistance League does for families and children in need, They are all-volunteer and all our support goes straight back to the cause. Their devotion and commitment to spend their free time and give back is amazing." "We are thankful for such a great partnership with Hine Subaru," Elektra Demos, former president of the Assistance League and current Community Ambassador said. "Donations from businesses and individuals enable us to help more at-risk families and children. We are greatly encouraged that so many Subaru customers chose us as their charity for the Subaru donation. Donations to our thrift store also provide for our programs."
---
Subaru Share the Love benefits Assistance League - Electra D
During the Subaru Share the Love Event, November 17, 2016 to January 3, 2017, John Hine Temecula Subaru donated $250 for every new Subaru vehicle sold or leased to the customer's choice of four national charities or Assistance League of Temecula Valley, a local charity.Recently, Bill Brumbaugh, VP/General Manager of John Hine Temecula Subaru and his team, Kevin Ohler, Marketing Director, and Magaly Rivera, Internet Director, attended Assistance League's member meeting and presented the chapter with the proceeds from that event - a $25,000 check. The members were so surprised and excited by the amount of the donation. "We are truly appreciative of the continuing support of John Hine Temecula Subaru," said Electra Demos, Assistance League Community Ambassador. "Donations from local businesses enable Assistance League to reach out to more children and families in need."Thank you, John Hine Temecula Subaru and thank you to all their customers who chose Assistance League as their charity choice!Photo Caption: L/R Kevin Ohler; Electra Demos; Ginny Wetzel, President, Assistance League; Bill Brumbaugh; Dorcas Shaktman, Assistance League Community Ambassador; Magaly Rivera.
---
Operation School Bell - Kevin O
School bells are ringing again as the new school year has started for students throughout the Valley, but for one local nonprofit organization – The Assistance League of Temecula Valley — it is time for their perennial charitable program, Operation School Bell. "Thank you to John Hine Temecula Subaru for choosing Assistance League of Temecula Valley for their "Share the Love" partner. This campaign has provided much needed financial resources to Assistance League for providing new school clothing for needy students in the local area. We value this partnership and the support of Bill Brumbaugh and his staff." Dorcas Shaktman John Hine Temecula Subaru has been one of the largest donors each year since opening their dealership in the area. "This is such a fantastic event!" exclaimed Bill Brumbaugh, VP/GM of John Hine Temecula Subaru, "I'm so glad that John Hine Temecula Subaru has the opportunity to once again partner with the Assistance League of Temecula Valley and Operation School Bell. To see the excitement and look on these kids' faces as they're able to shop for their own clothes is absolutely priceless." For many, it was their first time shopping in a department store. Assistance League volunteers then use pre-purchased gift cards at checkout. Approximately 20 volunteers are needed per dressing event. Source: Valley News - Paul Bandong 10.03.16
---
Bark in the Park - Live Oak Dog Park Fundraiser - Kevin O
John Hine Temecula Suburu had the unique opportunity to provide assistance and sponsorship for the 2nd Annual "Bark in the Park" Dog Walk/Show and Dog Park Fundraiser on Saturday, March 19, at the Live Oak Dog Park in Fallbrook, CA. Over 650 dog owners and their fun, friendly and furry four legged canine friends took park in the event. John Hine Temecula Subaru, Bill Brumbaugh VP/GM, was proud to present the "Best of Show" and "Owner Look Alike" awards. Of the event, Brumbaugh said, "This is such a fun time and we are glad to lend our support and have the opportunity to take part in order give the dogs a place to run and play. Subaru Loves Pets!" Live Oak Dog Park volunteer, Michelle Porkorny said, "This year's event was a 'huge success' and we can't wait to see it grow in the future in order to be able to meet the annual funding needs and maintenance of the off-leash Live Oak Dog Park. We are so thankful for John Hine Temecula Subaru's support." Event publicity was also published locally by The Valley News which is published weekly to over 100,000 area residents and businesses. http://myvalleynews.com/calendars/john-hine-temecula-subaru-sponsors-bark-park-event/
---
Recycled Art Show - jane L
For the second consecutive year, John Hine Temecula Subaru was the "Presenting Sponsor" for the 4th Annual "Recycled Art Show" on April 18, 2015. The event was inspired by International Earth Day and brings together established, professional artists and talented middle school through college-level art students creating a rich range of designers, collaborators and mentors. Art students present with and learn from regional designers and artists in a professional, competitive venue. At the event a panel of five outside judges select winners and present awards. Fashion designs are selected based on innovative use of recycled material, expression of humanitarian and ecological statements, craftsmanship, transformation of the model and original design. Designers created dresses with 'recycled Subaru parts & materials' that we donated as well in order to fashion some very creative clothing. In conjunction with Earth Day and the Subaru "Loves the Earth" campaign, John Hine Temecula Subaru Cross promoted the event on social media, Radio & TV spots and that promoted the "Electronic Waste Collection Event" for the month of April. The promotion was a great success and exemplified The Subaru Love Promise in our local region. We look forward to taking part again in 2016.
---
Share the Love 2014 - Dorcas S
For the 2014 Share the Love event, John Hine Temecula Subaru teamed up with Assistance League of Temecula Valley. As an additional 'tie in' to the event we also had a highly successful food drive where we collected over 1,000 pounds of canned goods that we donated to a local pantry that the Assistance League partners with as well. The Assistance League also promoted the event inside their local thrift shop that is very popular among 200,000 plus local residents in the Temecula Valley, as well through weekly "Constant Contact" messages to approximately 2,500 recipients. In addition, we also have three feature stories that were written up by a local newspaper (The Valley News) that explains the event, its success and how Share the Love benefits the various charities and local community. The first article featured quotes from Bill Brumbaugh, General Manager, and an overview of the campaign, the second (to be published this week) featured interviews with the President of the Assistance League and our partnership with them and a third article will be released in March at a check presentation ceremony and wrap up event. http://www.myvalleynews.com/story/82053/ We also promoted the event on Radio, TV, Print advertising and social media as well as digital media. We look forward to another successful Share the Love Campaign in 2015. Kevin Ohler John Hine Temecula Subaru Director of Marketing
---